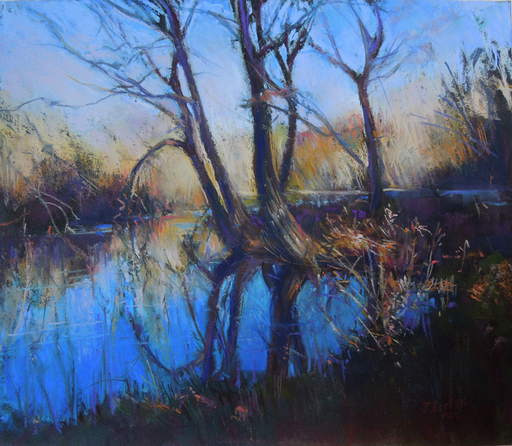 Pastel artist, Joyce Lister, remarks:

"I paint what interests me, what excites me, and hope that the paintings convey that excitement and strike a responsive note in the viewer. Since I was a child I have loved painting portraits, figures, and animals, trying to capture the personality and spirit of the subject. I find land and waterscapes more of a challenge, but am inspired often by the light, the composition, or the mood of a place, and I find it very gratifying when a painting is successful and conveys the spark that inspired me to paint it."

NEWS UPDATE:
Joyce has been elected a Signature Member of the Pastel Society of America.

Her painting "Couch Potato" won the Award of Honor at "For Pastels Only 2013 on Cape Cod", the PPSCC Annual National Show.

Joyce's paintings have received Special Merit and/or Special Recognition Awards from Light, Space & Time Online Gallery in their recent Art Competitions: All Women, Nature , SeaScapes , Figurative, and CityScapes in February, March, April, May, and July 2013, respectively.

Her artwork is featured in three books:
"Finding your Style in Pastel", by Jean Hirons, Author House, 2012, available from the publisher, or at Amazon.com and Barnes & Noble.

"100 Artists of the Mid-Atlantic", by Ashley Rooney, Schiffer Publishing, 2011, available at Amazon.com and Barnes & Noble.

"Best of Artists Collectors Edition" (landscape genre) May, 2011. Can be viewed online. Click on link.